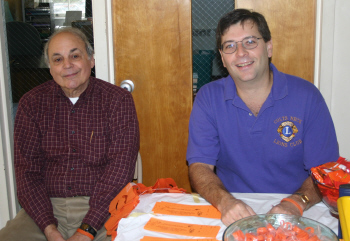 The Colts Neck Lions Club was formed in 1969 and has been serving the Colts Neck Community ever since. Lions volunteer their time to humanitarian causes in their local and world communities. By conducting service projects and raising funds, Lions strive to help those in need, wherever they are. The Lions' motto is "We Serve."
The Lions association was founded in Chicago, Illinois in 1917 and has grown to be the world's largest service club organization. Lions Clubs International has 1.35 million members in over 180 countries. There are approximately 8000 members in 173 clubs in New Jersey. The Colts Neck Lions Club was voted 1997 Club of the Year within our district of 47 clubs.
In 1925 Helen Keller addressed the Lions at their annual International Convention, challenging them to become "knights of the blind in the crusade against darkness." Since that time service to the blind and visually impaired has become one of the association's most significant activities. That crusade has resulted in Campaign SightFirst, a global blindness prevention program. In addition Lions participate in service activities related to
Diabetes awareness, education and research,
Needs of the physically and mentally impaired,
Environmental issues,
Community welfare, and
International understanding.